Introducing the CWTS knowledge agenda 2023-2028
On January 1, 2023 CWTS launched its new knowledge agenda, a strategic plan for the centre for the period 2023-2028. In this post the directors of CWTS introduce the new knowledge agenda.
Academic research has become increasingly complex, multidisciplinary, collaborative, and transnational. The institutions that underpin research - including communication and evaluation systems - are trying to keep up, with varying levels of success. At the same time, our society is facing major challenges, including existential global health, welfare, and sustainability issues. Obtaining solid evidence-informed solutions to address these challenges requires a research system that encourages collaboration between researchers and with societal stakeholders, that values intellectual curiosity, outside-the-box thinking, and a diversity of perspectives, and that stimulates open sharing of results. It also requires a research system that reflects on its own role in society and its own shortcomings. This is the research system that we, at CWTS, want to help create.
In the coming six years, CWTS will operate under the heading of a new high-level strategic plan. In this blog post we share the purpose and mission of this new knowledge agenda. Our knowledge agenda replaces the research program Valuing Science and Scholarship that we have been working on between 2017 and 2022.

Not another research program
Whilst it is common for research institutes at Dutch universities to have a research program, over the past years we began to feel the limits of a framing that prioritizes research and leaves less room for other important activities. Instead, we wanted our new strategy to embrace all our activities, from our fundamental research to our tool development, and from our interventions in policy and education to our consultancy and contract work. The term knowledge agenda is intended to communicate this inclusive ambition. It describes the mission we will work on, the collective values we will uphold, and the strategic topics we will address.

Mission
In the lead-up to this new knowledge agenda, we spent a considerable amount of time in 2022 discussing with the entire CWTS team the mission and values of our centre. We also organized two retreats that included brainstorming sessions with academic partners and other stakeholders and even offered an opportunity to develop dream projects. And finally, we worked on defining focal areas for our institute and developed a new organizational structure around these focal areas. We will introduce these focal areas in a next blog post.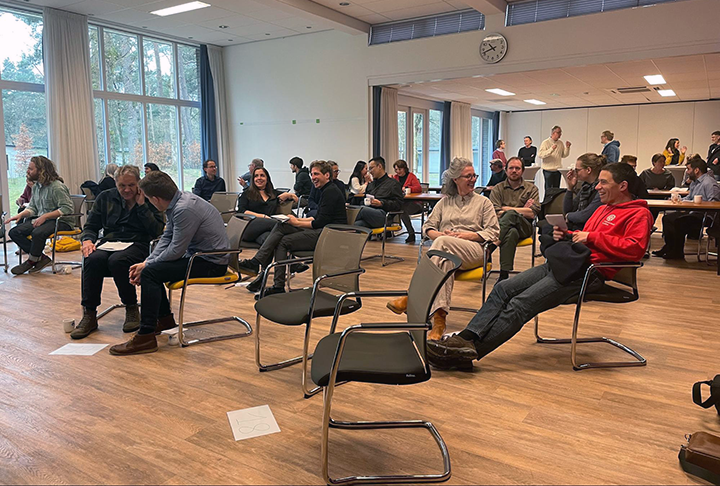 Together, we came up with the following mission statement for our centre:
Our mission at CWTS is to improve how science is practiced and governed and how it serves society
To realize this mission, we aim to develop a deep understanding of the dynamics of scientific knowledge production, based on in-depth engagement with a broad range of scientific and societal stakeholders. We also aim to contribute to reforms in research assessment, adoption of open science practices, changes in research cultures, and innovations in research analytics. Moreover, recognizing that we are part of the research system ourselves, we strive to practice what we preach and to lead by example.

Values
In our new knowledge agenda, we are trying to adopt a more explicitly value-led framework that aims for congruence between the knowledge we create, our own research culture, and our internal governance mechanisms. The goal of 'practicing what we preach' is to foster a positive culture at our centre, not only stemming from our knowledge about the research system, but also born from and carried by the CWTS community. To incorporate a more active reflection on our own values into our strategy, we collectively developed four core values to guide our work and decision-making:

Transformative. We want to make a difference by inciting transformative changes in the way science is practiced and governed and the way it serves society.

Evidence-informed. We value evidence-informed work and policy-making. We collect scientific evidence and act on it, but we also acknowledge its limitations. Scientific evidence offers essential insights for improving how science is practiced and governed, but these insights are always tentative and dependent on context.

Collaborative. We value collaborative work. To address the complex challenges faced by science and society, we prefer to collaborate rather than compete, both internally within our team and with external stakeholders. We cherish a diversity of perspectives and strive for a balanced representation and recognition of everyone's interests and contributions.

Responsible. We promote more responsible ways of practicing and governing science, for instance by making research processes more inclusive, research evaluations more fair, and research analytics more transparent. We practice what we preach by making our own way of working more responsible.
The coming years
The CWTS knowledge agenda 2023-2028 is intended to be an encompassing, high-level, and value-led strategic plan. It is meant to focus our efforts at a time when pushes for reform in research assessment and the increased need for openness in research practices provide us with a unique opportunity to contribute to a stronger and healthier research system. Among other things, we plan to consider how research evaluation in its many forms conditions research agendas, notions of quality, and daily practices of research and scholarly communication; how strategic and meaningful public engagement can become integral to realizing the value and relevance of academic research; how policy recommendations for more inclusive and diverse academic careers can be developed; and how structural inequities and lack of diversity and inclusion in global science can be better understood and addressed. Tackling these and other questions requires joint action by many different stakeholders in the research system. With our new knowledge agenda, we hope to meaningfully contribute to this in the years to come.