Dreaming at CWTS
What happens when you bring together the CWTS team and let them dream into the blue? Five visionary project ideas! From a New Society-Science Collaboration to the Participatory Activists Network or the enigmatic GRRASS: nothing was unthinkable.
At CWTS we are currently working on the development of our new knowledge agenda, a strategic plan for our center for the next six years. As part of this process, we are having lots of discussions, both internally within our center and with external colleagues and experts. While it will still take a few more months before we can share the outcomes of this process, we can already provide some impressions of the types of ideas we are discussing.
On September 15 and 16, the CWTS team got together in a hotel in Leiden for a two-day retreat. On the first day, we discussed the preliminary plans for our new knowledge agenda with a number of external experts, who offered very useful feedback and helped us broaden our horizon. On the second day, we challenged ourselves to think big and to develop 'dream projects' that CWTS could work on in the coming years. We formed five groups, each consisting of five or six CWTS colleagues, and each group spent a few hours developing a dream project.
Dream projects
One group proposed to set up a Global Responsible Research Assessment Support Station (GRRASS). The ambition of GRRASS is to bring together all stakeholders worldwide interested in making research assessment more responsible. GRRASS would consist of a global network of satellite organizations on each continent, each helping to mediate between regional and global level activities and issues. Together, these sites would aim to develop standards for responsible research assessment and organize accreditation in which the compliance of institutions with these standards is evaluated.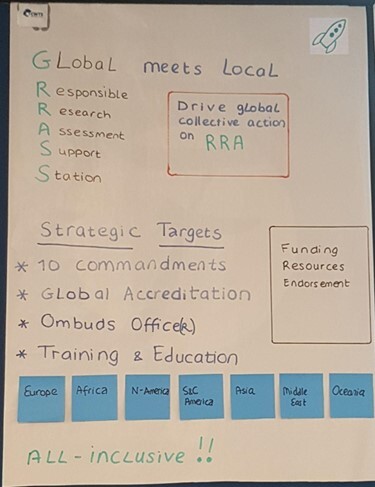 Another group proposed the New Society-Science Collaboration. This proposal builds on partnerships that CWTS has established in different parts of the world, through existing initiatives such as the SUPER MoRRI project. Supported by Unesco, the created network would be used to develop projects in a co-creative way, meaning needs-driven, with awareness of diversity and equality aspects. That would include partners that are, for instance, geographically diverse, but also originating from all helices of the quadruple helix: academia, policy, industry and citizens. The objective is to expand and foster the network through activities. In mixed methods, where the non-digital contexts prevail, CWTS could bring in new digital methods including diverse data sources and advanced mapping approaches.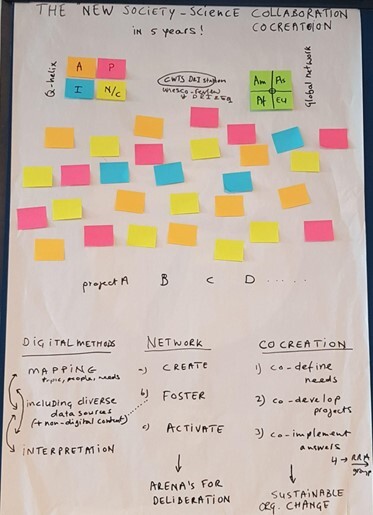 A related idea was developed by one of the other groups. This group proposed to set up a Participatory Activists Network. This network would focus on helping bring together activists who are pushing for change in the science system but who are not formally involved in decision making in scientific organizations. Contributions by CWTS would initially be situated with specific actors in the network (e.g., around evaluation), but eventually our participation would be present across the network, working closely with a variety of activists.
Another dream project aimed to eradicate scientific misinformation from societal debates. Using a combination of quantitative and qualitative methods, the project would systematically map interactions between science and society. By making science-society dynamics visible and comprehensible, the project envisions to empower academic and societal stakeholders to mitigate misinformation and renew trust in science.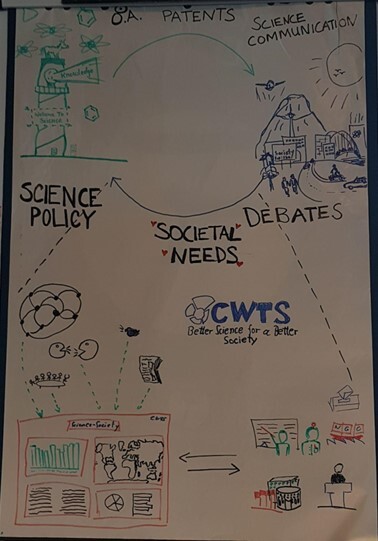 The final dream project is the Open Comprehensive European University Research Information System (OCEURIS), an open CRIS system for all European universities that will contain information deemed necessary by many institutions to realize the ambition of making their research assessment processes more responsible. The aim is that in the next five years at least half of the European universities will join OCEURIS.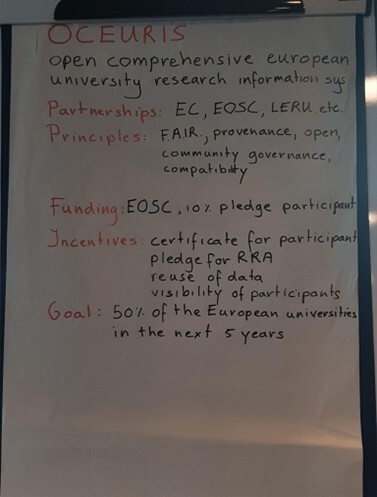 Employee of the Year Award
Besides dreaming about future projects, we also used the opportunity of being together at our retreat to celebrate some of the work currently being done at our center. Each year an Employee of the Year Award is handed out to a CWTS colleague who deserves special recognition. This year the award turned out to be a little bit different than in earlier years. To acknowledge the importance of teamwork at CWTS, Ingeborg Meijer, last year's awardee, decided to hand out the award not to an individual colleague but to a team. The award was given to the A-TEAM, which performs a crucial task at CWTS by performing high-quality curation of the data in our bibliographic database system. Congratulations to all members of the team for this well-deserved award. Thank you for taking such good care of our data!
What's next
Have we just been dreaming at our retreat, or are we actually going to make our dreams come true? We believe the process of developing dream projects is valuable in itself, even if ultimately a project is not going to be realized. Developing dream projects stimulated us to think in less conventional ways than we normally do and to find out what we are truly passionate about. Time will tell whether we will manage to find ways to make our dreams come true. Stay tuned for further updates on the development of our new knowledge agenda!
We are grateful to our CWTS colleagues for sharing their dreams and contributing to this blog post.