Responsible Research Culture: Practicing what we preach at CWTS
CWTS prepares for a new phase in its organization. In our new strategy, we aim to put our values first. A value-based strategy is the cornerstone of a well-functioning, positive research culture. Through open dialogue sessions we started to further shape this culture.
At CWTS, we have substantial expertise in research evaluation, including academic careers, institutional evaluation, journal evaluation, university rankings, responsibility and engagement, and open science. We regularly reach out to share our knowledge and foster good practice. But do we also 'practice what we preach'? Are we doing enough to foster an appreciative working culture, to harbour a safe space, and to promote open dialogues? How about vitality in career perspectives, promoting wellbeing, and rewarding activities that improve the research environment and serve a wider societal context? Which building blocks for a responsible recognition and reward system are missing?
Our internal working group on Recognition and Reward[1] recently asked organizational expert Freerk Wortelboer to host small-scale dialogue sessions with the entire CWTS staff. In small groups, colleagues shared their views and experiences with recognition and reward mechanisms within academia and at CWTS. Last month, the institute gathered online to discuss the harvest of these sessions and to brainstorm about ways forward.
In preparing my introduction for that session, I went on a short trip down memory lane. I started to reminisce about when I came to CWTS ten years ago – straight out of a postdoc position in Amsterdam. I quite vividly remember what the institute looked like in terms of the type of research, the type of contract work, and the demographics of its staff. This composition had served the institute and company well, but there was also room for - and a need for - change. With Paul Wouters as director, CWTS developed a broader ambition in diversifying its approach and staff.
At the time, I was part of a broader influx of new staff tasked with developing new research lines with existing staff. The institute grew and diversified by hosting more people with different cultural, methodological, and disciplinary backgrounds. Collaborations were extended to other areas of research and innovation. More people started to share the responsibility of leading the institute and mentoring early-career colleagues. Several thriving teams now work on sophisticated data curation, the LeidenMadtrics blog, and the Leiden ranking. Colleagues in the company part of CWTS developed a wider range of services – including qualitative approaches - for our consultancy fueled by the new research lines. We now cover a diverse range of topics through a host of different projects and activities and do so with a large group of local, national, and international colleagues.

Although the efforts listed above show the intention to move towards a well-functioning research culture, some challenges are still here - as reflected by the outcomes of the dialogue sessions.
Below you see a drawing that Freerk Wortelboer drew up and that summarizes the 'prouds' (in green) and 'sorries' (in blue) on recognition and reward that were shared in the dialogue sessions.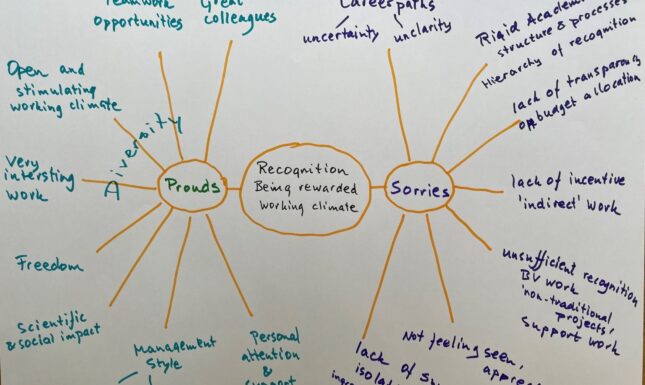 To be honest, when we started the internal working group, I and the other group members had developed a rather analytical approach to internally assessing our own recognition and reward mechanisms. After our first institute-wide team meeting on this project, colleagues reminded us that the topic is also emotionally charged. We were asked to acknowledge this in our approach, and rightly so! After some consideration, our group opted for a form that reflects what we hope to do more of internally: to provide a psychologically safe space to speak up and share views directly with colleagues (rather than, e.g., only sharing confidentially in a one-to-one setting).
When I look at the drawing I feel all kinds of things, including satisfaction, recognition, and sorrow. But most of all I am grateful that this feedback is now on the table - from the accolades and praise to the struggles and the pain. Not only is this very important input for the further development of our staff and our organisation, but I also think we can take some pride in being able to do this together. I believe the willingness to engage also supports our initial idea for the new Knowledge Agenda that CWTS will develop in the run-up to 2023. As directors of CWTS, Ed Noyons, Ludo Waltman and I hope that this strategy will not solely be driven by content or by performance. We also want this to be a strategy driven by values. In a values-driven Knowledge Agenda, CWTS does not only commit to certain topics and themes, but also to culture-related policies and practices – as we started to do with e.g., our Open Science policy. In the spirit of these and other initiatives, these research culture-related policies and practices should be community sourced.
To me, this is what we have started to do at scale in the dialogue sessions. And this is what we should continue to pursue tomorrow, this week, this year, and beyond. Because this dialogue process is not, and should not be, a one-off, but something we should continuously spend time on. The budding experience with the dialogue sessions suggests that there is a basis to further strengthen an appreciative research culture: by meeting and discussing ideas, but increasingly also by fostering a safe space to share struggles, make mistakes, talk about things that need to change, and be transparent about things that cannot be changed too. This means that we should consider
creating a shared vision on the key elements of a value-based strategy (including open science, appreciative culture); recognizing all capabilities and contributions
developing a community-sourced strategy that we feel proud of; acknowledging and rewarding diversity and equality
exchanging ideas, listening, and understanding what the obstacles for change are; working together and building a community in which everyone is heard
monitoring and regularly evaluating how we are doing; scrutinizing the strategy as well as how people are doing
An important target is that in time, most - if not all - of our staff members feel supported in their development, both within the Centre and beyond. Not only as employees, but as human beings.
I would like to thank Carole de Bordes, Nees Jan van Eck, Tjitske Holtrop, Ingeborg Meijer, Mark Neijssel, Ed Noijons, Vincent Traag, and Ludo Waltman for valuable feedback on an earlier version of this blogpost.
[1] Members: Carole de Bordes, Tjitske Holtrop, Hungwah Lam, Ingeborg Meijer, Sarah de Rijcke, Vincent Traag