Unlocking the frontiers of Scientometrics: CWTS Summer School 2022
The fourth CWTS Summer School took place from June 20 to July 1, 2022. Scientometric scholars from over 23 different countries representing an array of disciplinary backgrounds met online and in-person in Leiden to learn, share and network on scientometric methods.
The 2022 CWTS Summer School provided a thorough introduction to scientometrics. First, we defined scientometrics. We then discussed major scientometric data sources, their strengths and limitations, including Web of Science, Scopus, and Dimensions as well as explored cutting edge tools available to scientometricians, including Elsevier's International Center for the Study of Research Lab (ICSR) and Dimensions on Google Big Query.
We learned how to construct and analyse a network using quantitative and scientometric methods based on scientometric data relationships, such as causal inference, text analysis, and network analysis. We also had the opportunity to experience working with the VOSviewer software to gain an intuitive understanding of visualisation techniques.
Furthermore, the summer school offered various alternative perspectives on the study of science. We learned about altmetrics as indicators of science-society interactions, about the connections between Science and Technology Studies (STS) and Scientometrics, and between the Science of Science and the Sociology of Science. These perspectives on science are unlocking a new era of scientometric thinking, enriching our knowledge, and broadening our horizons. They also inspire us to think about our own research in new ways.
Student presentations
To conclude on the content part of the summer school, it would be relevant to mention the student presentations. Due to our different disciplinary backgrounds, we exchanged ideas on a wide variety of research topics, which had a very special significance for us in the summer school. Among other topics, we talked about translational psychotherapy, the role of gender in solar energy research in Turkey, public policies in Latin America, and public research institutions in Korea. We talked about the terms "ultrafine particles and nanoparticles", and "elderly independent living" as well as broader topics such as education policy during the COVID-19 pandemic and health data sharing. Although we focussed mainly on scientometric methods, there was no lack of diversity in the way to apply them: we looked at citation behavior, talked about the development of new indicators, the relationship between survey data and bibliographic data, and learned more about grant proposals, delayed recognition in science, and the quantification of adjacent in distant reuse of references within disciplines.
Global summer school: a hybrid experience
This edition of the CWTS Summer School was the first to offer a hybrid learning experience, and like all first times, it brought a few challenges. Still, the hybrid mode enriched diversity by including participants who otherwise could not have enjoyed the summer school. We could classify the challenges into two main categories: unexpected comical MS Teams happenings and issues related to technicalities. On the comical side, we encountered unintentional unmuting and cat appearances, and on the technical side, we sometimes experienced poor connections and sound issues. However, all challenges were professionally managed by the teachers, not affecting the rhythm and pace of the summer school. One on-site participant said: "I found the hybrid format very enriching. Getting to know Leiden and the CWTS on site was great, but equally great were the digital presentations and the enrichment of the discussions provided by those connected online. Apart from the content of this course, networking and being able to exchange were the two main arguments for me to take part in the summer school - there was nothing else to be desired."
From the perspective of the online participants, the hybrid environment felt like being in a movie; there were camera-shifting angles and zoom-in to participants speaking in person. Also, the teachers managed the time for Q&A and discussion equally for all participants. In conclusion, although online participants were not in the room, their valuable contributions showed the importance of bringing their voices into this edition of the summer school.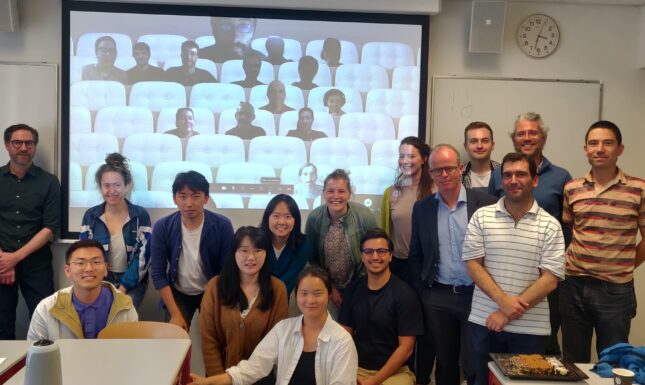 Impact beyond classroom
The summer school came just at the right time when most of the participants needed it. Indeed, it came at a point where most of us are working on metric-related studies but needed a broader understanding and to learn more about the distinctions between scientometrics, bibliometrics, and altmetrics. Discussions and clarifications on these approaches and on methods applied to diverse types of studies benefited most participants. Participants who got the opportunity to present their work-in-progress received comments from fellow participants which in return aided in improving their work.
According to one participant: "The summer school helped me to address critical comments of reviewers regarding the 'methodology' section of an article about the impact of international collaboration on Namibian science production".
All the information on data sources and different tools used in scientometric studies provided during this course is a bonus that will enrich the future scientometric-related studies of all participants. Additionally, free access to data sources such as the ICSR Lab and Dimensions on Google Big Query will provide an opportunity for participants to use data for further exploration in metric-related studies. Empowered by the knowledge gained at the summer school, we look forward to expanding the frontiers of scientometric research together in the future.
Photo by Deleece Cook