You couldn't attend the Altmetrics conference? Fear not! We recorded everything you missed
Our generous friends at TIB have created a service to watch all the Altmetrics conference and workshop videos. We are so lucky!
This article has been originally published at the TIB Blog.

At the TIB AV-Portal, we have created a service to watch the Altmetrics Conferences and Workshops. In doing so, we create a long-term archive of the videos, define licenses for reuse, assign a Digital Object Identifier (DOI) for each video and provide the possibility to link the videos in future to the corresponding presentation slides and/or abstracts. We were supported by Catherine Williams from Altmetric.com and the team of the Lab Non-Textual Materials at TIB.

The Altmetrics Conferences and Workshops are the most prominent events around the world on altmetrics, and have been held annually at different locations since 2014. The Altmetrics Conference focuses on a wider target audience, such as librarians, publishers, researchers and several altmetrics data aggregators and providers. The conference aims to give attendees a chance to hear practical applications of altmetrics data, learn from what others are doing, and discuss the potential challenges and opportunities that these data bring to their organisations.
The Altmetrics Workshop takes place together with the conference, after having had workshops at the ACM Web Science Conferences in 2012 and 2014. The workshop series sets the focus on researchers to discuss work in progress on altmetrics research. In contrast to the conference, submissions to the workshop are also peer reviewed, and extended abstracts are published on the workshop website (e.g. The 2019 Altmetrics Workshop).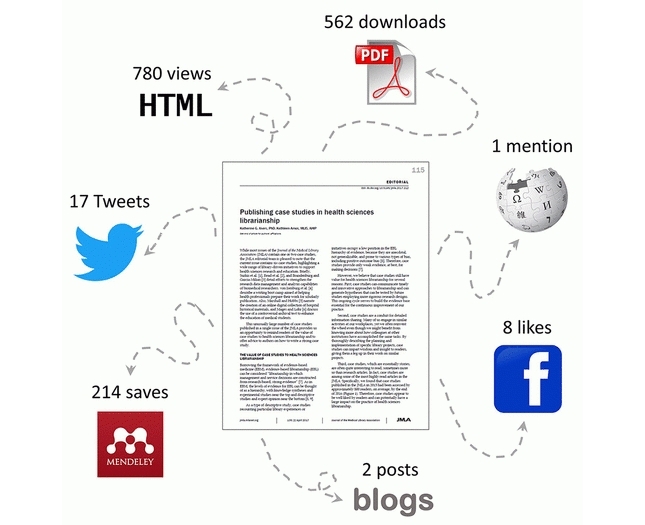 source: https://doi.org/10.5195/jmla.2017.250
The TIB AV-Portal is the ideal infrastructure to host, find and reuse scientific videos. The portal's key unique selling points are the long-term archiving of all videos and the seamless use of DOIs and Media Fragment Identifiers (MFID), which ensure reliable long-term availability and referencing of the videos to the second.
Would you like to know how research articles are mentioned on Twitter or how altmetrics are related to open science? These are just two examples, and you can start exploring the full video collection on altmetrics here.