Utrecht lunch walks: an initiative to cope with remote working
Working from home can be a lonely experience. Sometimes, you just wish to have a 'real' chat with a colleague. Therefore, the CWTS-colleagues from the city of Utrecht started experimenting with socially distant lunch walks. It turns out – this is going pretty well!
This blogpost is a follow-up of the post by Ed Noyons Going back to normal?, published almost a year ago. Back then, he discussed the impact of COVID-19 on work conditions and proposed the idea of rethinking all the commuting we were doing in 'normal' times.
So, what is happening one year later?
As COVID-19 turned our world into a more physically distant one, many people maintain social, educational, and workplace contact via online meetings and conferencing. On the one hand, we are able to deal with the current situation, having appropriate facilities for almost all of us to stay and work in our homes. However, in the long term, the virus's growing impact on people's well-being is noticeable and a little change in daily routine can make the difference in our personal life as well as in our professional life and work performance. For many people, working from home can be a lonely enterprise in this era of social distancing and one thing still remains: the desire to have a 'real' chat with a colleague. Therefore, among the many initiatives at CWTS, there is one I like in particular: the lunch walks.
What is it all about?
A previous study in the Journal of Occupational Health Psychology found that taking a short walk during a lunch break might allow employees a rest from the cognitive process required during the workday, which becomes even more relevant in a home-working situation. Our colleague Inge van der Weijden put this idea into action and suggested a weekly schedule for all CWTS staff living in Utrecht and willing to participate. But that was no issue at all, everyone was very enthusiastic about this initiative!
From February on, the first schedule was drafted for the coming four weeks in which everyone was paired up with someone else once a week. The Utrecht team was also formed: Bram, Carole, Ed, Inge, Leonie, Rinze, and Sonia (and Tim, who joined us later in March). We decided to call ourselves the 'Utrecht Squadron'.
How did we experience it?
Bram and Ed met for the first time in real life for a lunch walk in Lunetten, Utrecht. This was an excellent way to get to know each other, but as to be expected, there is so much more to discuss that they are already looking forward to the next session.
The same week, Leonie and I also had a nice walk along the Singel. Unavoidably, our discussion turned to the question of how to make sense of all those informal activities as well when it comes to evaluating research organizations. After all, you would think that they can be quite important! Only how do you account for them?
The week after, in a park in between their homes, Inge and Ed met for a short walk during lunch and a coffee to go. Such a nice way to get things off your chest and to look for opportunities in the future! On the most beautiful day of the year, Ed and I walked along the Singel in Utrecht. A wonderful track around the city centre, where we discussed extensively the new challenges raised by managing projects and our lives.
A socially distant walk due to slippery conditions, Inge and Leonie decided not to meet in person. Instead, they had an hour-long phone conversation, while walking in Leidsche Rijn (Inge) and Oost (Leonie). The huge snowman around the corner from where Leonie lives served as a stand-in for Inge. So now the research question is: did both of them walk 4.4 km? Inge did, according to her 'Stappenteller app'. Did Leonie as well?
The week after, Rinze and Leonie had a non-scheduled walk. They talked about the practice of the Strategy Evaluation Protocol, about societal impact and recognition and rewards. Well, anyone who knows them could have guessed that…
The same week, Bram and Inge had a sunny walk in Lombok and Oog in Al while one week later, Bram and Leonie had a very pleasant and sunny walk in Amelisweerd. They talked about the controversial A27 project in the beautiful surroundings of Amelisweerd, and about being new at CWTS and starting a new job in times of Corona. Sonia and Ed explored the city centre together and enjoyed a pumpkin and onion soup while talking about Sonia's current and future projects at CWTS. The last week of February, Inge and I had a walk at the 'Muntgebouw' in Utrecht where we discussed the progress of institute projects we are working on together.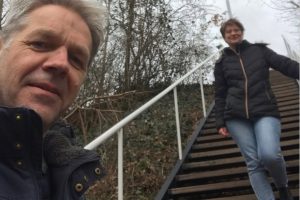 Exchanging with colleagues in real-life settings
Thank you, Inge, for taking the lead in organizing these lunch walks! Breaking the working day with an outdoor activity such as walking is a great way to cope with the strange circumstances that we are all in. Not to forget about the health aspects, of course. It might be for a reason that Leiden University invited its members for a walking competition as part of its health week in early March. Emphasizing more the aspect of exchange, the University of Amsterdam also introduced a walking activity for its students only recently. For me, the lunch walks are a great opportunity to keep each other informed on our daily activities and current research projects. And I think - with these obvious benefits, the impact of those informal exchanges cannot be valued high enough. But as long as we don't step up our selfie-game, it will likely be impossible to keep track of all of that. Some things are just difficult to measure…
Header image: Tania Morán Luengo